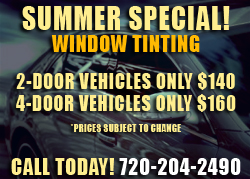 Love that straight-from-the-showroom shine you only seem to get from a car dealer? Well, now you can replicate that new car sheen and keep your vehicle looking sharp long after it's left the dealer's lot with impeccable, deep-down detailing service from Longmont Auto Detail. Sure, do-it-yourself and automatic car washes are fine for occasional car cleaning, but when you want results that leave those basic methods in the dust, throw in the towel and call our professional auto detailers. We're car cleaning specialists with a decade of experience in auto detailing, and we're only a phone call away to help!
Impeccable Auto Detailing
Serving Drivers & Dealerships
10 Years of Experience
Licensed, Bonded & Insured
Window Tint & Windshields, Too!
At Longmont Auto Detail, we go well beyond the surface dirt to give your vehicle a thorough car detailing inside and out. In fact, how do you think some of the local dealerships achieve that pristine, ready-for-sale radiance in the first place? That's right! They count on our precision auto detail shop to answer every aspect of their professional car cleaning requirements, from car interior cleaning and clay bar car detailing to engine cleaning and headlight restoration. In addition to auto detail services, we also offer window tinting and windshield replacement services for your car, truck, or SUV.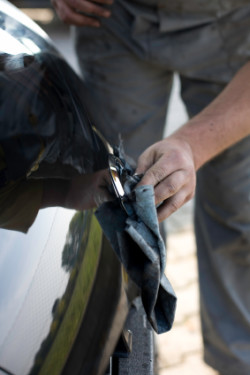 Located in Longmont, Colorado, just 16 miles from Boulder, Longmont Auto Detail is proud to provide car cleaning and other automotive maintenance services for customers throughout Boulder County and the surrounding region. Whether you're an individual car owner, a nearby car dealer, or you have a fleet of rental vehicles that could benefit from our auto detailing expertise, don't hesitate to contact our locally owned and operated company. We're licensed, bonded, and insured for your complete protection, and we're happy to work with drivers or business owners from Boulder, Loveland, Berthoud, Niwot, Gunbarrel, Hygiene, and other neighboring communities.
So keep your personal car or fleet of vehicles looking its absolute best. Simply skip the trip to the auto car wash and call Longmont Auto Detail today for meticulous car cleaning and auto detailing. We'll treat your vehicle to a showroom-worthy wash from the glass, upholstery, and leather to the tires, wheels, and engine. Plus, we won't stop until the stains and grime are gone. Call now for your free, no-obligation estimate, and be sure to ask about our special discounts for first-time customers. 
If your weekdays are too hectic, Saturday hours are available by appointment: Call us today to schedule your auto detail service!